BELIEFNET DISCUSSION BOARDS - GREAT WICCAN TOPICS, CHRISTIAN TOPICS, SPIRIT GUIDES.  JOIN IN OR JUST LEARN.......
http://www.beliefnet.com
and even more ULTIMATE SITES....

FAVORITE LINKS

Searching? Curious what others believe?

We have provided some links below for you.

Their presence here signifies mutual respect we have for positive beliefs in keeping with our vision.  We are always looking for more links... send us some of your favorites.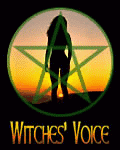 This page was last updated: September 15, 2014