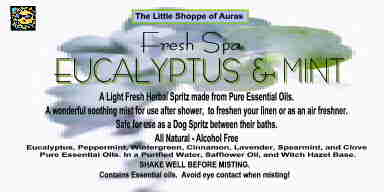 All Natural Body

Spritz

Exclusive Blends from The Little Shoppe of Auras

BODY MISTS, and AROMATIC SPRITZ

by Little Lizard Productions

Our All Natural  Body Mists are made from the pure essential oil blends in a crystal charged purified water or witch hazel base.  Contains no Alcohol or preservatives.  Great for everyday fragrance wear.  Fragrance is pure and aromatic and lasts longer.  Compliments your natural essence.

All Mists have matching scents in our
Bath Salts
.  A must for a total nurturing experience in the Bath.
On this page - Bath Salts, Body Mists, Herbal Bath Bags, and Aromatic Spritz

The Little Shoppe of Auras - Unique All Natural Body Mists

Made with cyrstal charged purified water and essential oil blends  - ALCOHOL FREE

Celtic Forest     $7.99         4 fluid oz

An earthy blend of Amber and Sandlewood that takes you right to the forest glens of the Celts.

Patchouli Wood    $7.99    4 fluid oz

The familiar erotic scent of patchouli with a touch of earth. Wonderful light blend.  

Exclusive Products from:

Little Lizard Productions

The Little Shoppe of Auras

618 251 9646

The Bath Bag - Relax and Rejuvenate

The Bath Bag - Cold and Flu

           Fresh Spa

EUCALYPTUS & MINT SPRITZ

$5.99       2 fluid oz

A Light Fresh Herbal Spritz made from Pure Essential Oils in a refreshing water and witch hazel base.

Wonderfully soothing mist for use after shower, to freshen your linen or as an air freshner.

SAFE FOR DOGS - use as a Dog Spritz between their baths.

JUST BREATHE SPRITZ

$7.99       4 fluid oz

An aromatic blend of Chamomile, Lavender and Peppermint. Mist yourself day or night for stress relief or your linens to help you drift off into slumber.  Also effective to alleviate snoring.  Also Available in a Balm

Breathe Easy - 1dram   Pure Essential Oil Blend

Invigorating Essential Oil Blend... $9.99   1 dram

Place a drop of oil in the palm of your hand.  Vigorously rub hands together.  Close eyes and hold hands over nose and mouth. Breathe Deep.  Do not allow oils to come in contact with eyes.

THIS PRODUCT IS NOT A SPRITZ.  ONLY TAKES A DROP

This page was last updated: July 17, 2021
SPECIALTY PRODUCTS

Bath Bags, Detox Salts and Aromatic Mists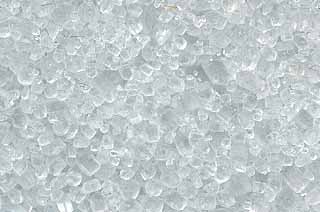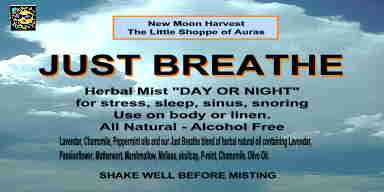 Champa-Rose    $7.99    4 fluid oz

A Nostalgic Nag Champa blend of Champa, Vanilla and a touch of Rose.



Strawberry Fields Forever   $7.99   4 fluid oz

A clean, fresh fruity fragrance .  Brand NEW!